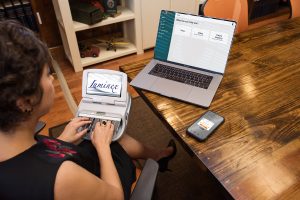 In many states, there appears to be a critical shortage of court reporters. Due to today's antiquated process of scheduling legal support services, finding competent coverage for legal proceedings is becoming increasingly more difficult for attorneys/paralegals and firm owners.
Qualifications and certifications are slipping further down the list of priorities with each passing day.  More often, attorneys are stipulating and acquiescing to seeking alternatives, all for the sake of creating a record.
We see this in the form of attorneys stipulating to a video-only deposition when a reporter fails to show, waiving of the swearing-in protocol for the witness on a videoconference deposition, and courts with official reporter job openings are willing to waive previously-mandated certifications in order to fill the position. Take ten minutes to peruse the dozens of Facebook court reporter group pages and you will see hundreds of posts seeking immediate assistance with jobs. When this happens, qualifications or certifications are never the priority. A warm body is.
To find last-minute coverage, reporting firms offer bonuses, Uber rides/flights/hotels, and guaranteed pages; in other words, they need a warm body that just says YES!
Court reporters are in high demand. How are state and national associations responding to this crisis? By falling back on the same antiquated stance, which is preaching the value of certifications and continuing education points. At the end of the day, the goal remains to ensure a steady stream of revenue into the associations' pockets.
A new model is emerging. The legal industry can now follow the successful strategy used in other services industries: the five-star rating system. Industries such as hotels, restaurants, beauty/esthetician businesses, on-line retail, mobile apps and fast-food chains know that genuine feedback from the market translates into a community vote of confidence. Reviews, as well as the five-star rating system, carry more weight and lend more credence to today's consumer and business choices.
If you've ever used Uber or Lyft, you already know this strategy works. As soon as the car stops, a pop-up notification appears on your phone asking you to rate your driver. When you receive a package from Amazon, within a day or two, you receive a notification to rate your satisfaction with the product and service.
What's the resounding theme? The legal industry is a laggard, not a leader, when it comes to technology.
Expedite successfully delivers high-quality services based on the five-star-rating-and-review concept.  Certifications and qualifications are wonderful personal aspirations, but ultimately, they do not hold the weight necessary in today's culture. Certifications prove you have fulfilled the requirements for a designated test that was taken in the past, but they fail to demonstrate individual work ethic, attitude, motivation, and timeliness components necessary to secure quality court reporting services.
The legal industry has proven complacent and slow to adapt. Certifications are expensive, time consuming and demonstrate knowledge you knew yesterday. Transitioning to a five-star rating system with legal support services will assure providers possess the desire and skillset necessary to deliver high-quality services.