Who is a Provider?
A Provider is someone who offers litigation support services in the legal industry. Expedite has six categories of Providers: Court Reporters, Videographers, Interpreters, Mobile Videoconferencing Techs, Notaries Public, and Couriers. Please note that court reporters and videographers will be able to add special designations for certifications obtained. If there are several designations, please select the highest.
ATTENTION: Court Reporters
PLEASE NOTE: During the Provider sign-up process, you will be prompted to fill in a field called Designations. Please select only your HIGHEST designation. The field will not accept multiple designations.
ATTENTION: Interpreters
PLEASE NOTE: You must have at least one year of interpreting/translating experience and hold the necessary certifications and/or court registrations to cover assignments.
What address should I use on the sign-up page?
ALWAYS use your personal home address, even though you may work for a firm. Expedite will be sending you a welcome letter as soon as you're signed up, along with our official Trade Dress for you to display when you pick up last-minute jobs in your area. We also need to have your home address for tax purposes.
What are the requirements to become a Provider?
Be competent in your field

Make sure you have necessary certifications/registrations/licenses for the states in

which you work.  Fraudulent representations will be handled swiftly and appropriately.

Provide a proper profile picture

Bank account

iOS or Android Smartphone (with texting capability)
How do I sign up as a Provider?
To become an Expedite Provider, download the Expedite App from the Apple Store, or visit Expedite.legal, click the APP download button for your iOS.
For new registrations, click Provider Sign Up, then fill in the requested information and click Next.
At the Provider Dashboard, you will enter: 
Enter Basic Information – ENTER THE CORRECT MOBILE NUMBER AS THAT'S WHERE THE JOB REQUEST NOTIFICATIONS WILL BE SENT.

Select Your Skills

Upload Your Professional Profile Picture

Enter Bank Account Info

Make sure your Locations Services is turned to ON.
How do I add or remove Skills?
Providers can add or remove Skills at any time through the app.  From the Home page, select Settings, then select Category Setup, then hit the arrow beside the service you provide.  Simply place a check to the right of the services you offer.  To remove a Skill, click on the check mark until it disappears. It is deselected when the check mark disappears.
What are the guidelines for a professional photo?
Your profile photo is the first thing a customer sees when choosing a Provider to complete a job, so we want to help you make your photo look great and professional. Once uploaded, your profile image will be processed and added to your Provider profile. Some things to remember when taking your Provider photo:
No hats, sunglasses, or headsets.

Smile! Say cheese! Show off your friendly side by giving a nice, big smile in your photo.

Find a well-lit location to take your photo. Your photo will turn out best if you can take your photo in a place where the light is even, so it is not too bright or too dark. 

Find a solid background. Make sure you have a solid background in your photo. We suggest standing in front of a wall to help avoid shadows.

Frame your entire head and top of shoulders. Have your photographer take a few steps back, center your head in the box and get the top of your shoulders in the frame. This is the toughest part, but we know you can do it! 

No blurry or black and white photos. Customers need to see you clearly.

No face filters.
Now that you have a great profile photo, you're ready to accept jobs via Expedite!
Customer/Provider Designation - Can I be a Provider AND a Customer?
Attorneys and Paralegals are Customers, and Court Reporters/Videographers/Interpreters/Mobile Videoconferencing Techs/Notaries Public/Couriers will be Providers within Expedite; however, Providers who are also court reporting firm owners will have the option of registering as a Customer, as well.  For example, if you are a court reporter, as well as the owner of your own firm, you may toggle back and forth from the Provider to Customer side of Expedite. If your firm receives a call from a client looking for last-minute assistance at the courthouse, you may utilize the Expedite app to send a job request out to Providers available in the immediate vicinity.  Please note that if a Provider registers as a Customer, and then initiates a job request from the Customer side, they are now responsible for full payment of the appearance fee due to the Provider.  The transaction will be processed exclusively through the app.  In turn, the firm is free to recoup the charge by billing the client for the service.
What is the radius of available jobs I can accept as a Provider?
All Providers are able to complete NOW, Today and Future jobs that are available within a 60-mile radius of their current GPS location.
Below are examples of the Find Provider radius for Tampa, Miami, Chicago, and Los Angeles.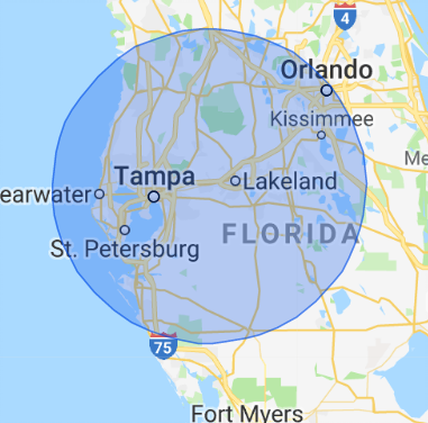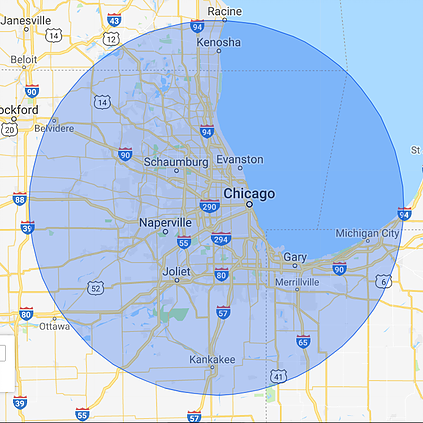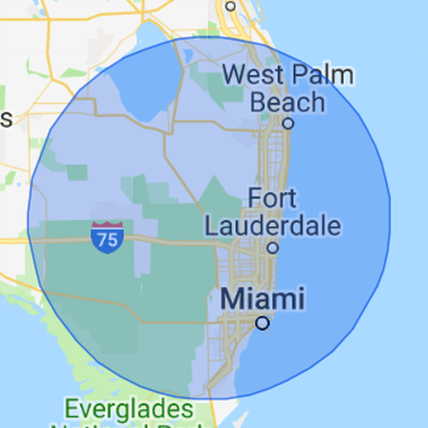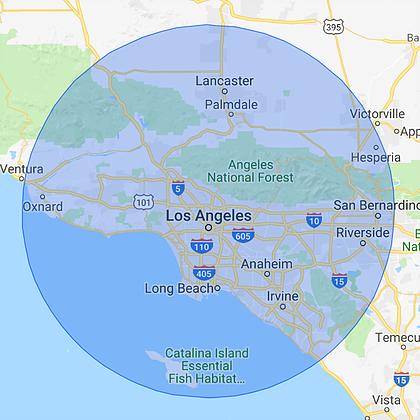 Once I accept a job, can I farm it out to another Provider?
Absolutely not.  Once a Provider accepts a ANY AND EVERY job service request, they are obligated to take the assignment.  Remember, the Customer will be able to track your location to estimate your time of arrival through Google Maps.  The Customer will also be able to communicate with you through the app and will rely on your profile photo to connect for the job.  If we receive notification from the Customer that someone other than the accepting Provider appeared for the job, both Providers will be subject to immediate suspension from the Expedite platform.  This is non-negotiable.
Is there a required Trade Dress for Expedite, like with Uber?
Yes, there is a required Trade Dress for Expedite.  Once you have registered as a Provider with Expedite, we will receive your information and will promptly send you the Expedite Trade Dress to prominently display on either your phone, laptop, or equipment.  This ensures Customers that they are working with a trusted partner in our premier network. Wear it loud and proud. Our success is your success.  Together, we can increase the efficiency of our industry by capitalizing on timing and location, which in turn, increases income-earning potential.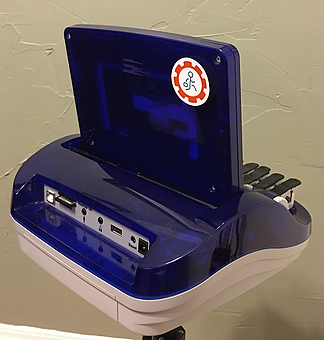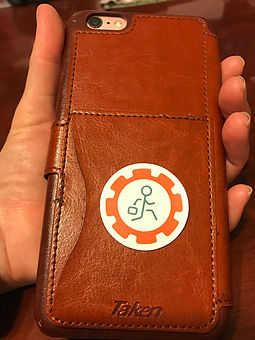 Provider Mode?
If you receive an error and are unable to activate Provider Mode within the iOS or Android app, please make sure the requirements below have been met:
1.     You have added at least one skill to your Provider account through the Expedite Provider dashboard
2.     You have added a Provider profile picture
3.     You have added a bank account
Still having trouble enabling Provider Mode?  Contact Us
Provider Tutorial Videos
Expedite The App
Freelance and Firm Experience
Provider Sign-Up
Court Reporter Available
Legal Support Schedule
Your Expedite Experience
How will I know when a job in my area is available?
Once you are requested to cover a job in your area, you will receive an audio and visual notification through the app. You will also receive a text message; therefore, it is imperative that you provide the correct mobile phone number upon sign-up. Once you receive a push notification for a job in your area, you can either Accept or Deny the request. We highly encourage you to Accept requests as often as you can to boost your star ratings and build community confidence.
Will I receive any notifications through my FitBit or Apple Watch?
All job-related notifications will be sent via text, along with an audio/visual in-app alert. Expedite-related notifications will also be sent to your smart watch device if it is set up to receive notifications. We want you to take advantage of your watches!
How far in advance will jobs be available?
Customers currently have three options when posting jobs:
1. NOW – Providers are expected to arrive as soon as possible.
2. TODAY – Providers are expected to arrive and start at a specified time that day. ​
3. FUTURE BOOKING – Providers are expected to arrive and start at a specified date and time, as requested by the Customer.
How do I see my FUTURE jobs?
You can view all of your jobs in chronological order on the My Jobs menu on the Home screen.
How can I communicate with the Customer once I accept a job?
Once you Accept a job, you will be able to communicate with the Customer through the in-app text/call feature. The app masks your phone number, as well as the Customer's, to ensure privacy. The text/call feature will only be available up and through job completion. Once the job is completed, the number is deactivated.
Navigation after hitting Directions upon Accepting a job.
Once you have Accepted a job, you will see a Directions option. Select Directions and a turn-by-turn route will guide you from your current location to the job location. If, however, you find yourself off-course, pull over, go back to the manage job screen and hit Directions button again. Expedite will re-route your course from your adjusted location to the job location. PLEASE NOTE: THE RE-ROUTING FEATURE WILL NOT FUNCTION WHILE YOUR CAR IS IN MOTION. This is a safety feature.
If I Deny a job request, will it affect my five-star rating?
You are only rated on jobs you Accept and complete. Although denials do not affect your five-star rating, they will be reflected in your responsiveness rating.
Below is an example of a job notification screen. You are prompted to Accept or Deny.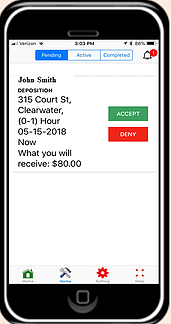 What happens if the job isn't as described?
If you arrive at a job and the actual length of time required differs greatly from the initial length of time requested, you have the ability to amend the job with the Customer without contacting support. Ask the Customer to submit another job request for the remaining hours under the Today feature. The Customer can request the current Provider, if the Provider is able to accommodate, or the Customer can submit another job notification requesting coverage for the remaining hours.
What happens if a job runs over the initially requested time by a few minutes?
At the start of the job, the Provider will hit the START button to begin the timer. Upon job completion, the Provider will then have to hit the FINISH button to initiate the final invoice. Should the Provider fail to hit the FINISH button within the requested time window, the Provider will receive a prompt asking if they'd like to EXTEND THE TIME. If the job is still going, press Extend Time and the timer will continue. Upon completion of the job, an adjusted invoice will be automatically sent to the Customer. If the Provider just forgot to hit the FINISH button, they can still press FINISH and the initial requested time is billed to the Customer. Please Note: If the job goes over by just a few minutes, please hit FINISH to bill for the initial time requested. Billing a full hour for a few extra minutes of overage may not bode well for your star rating. Please use your best judgment.
What if my state does not charge appearance fees?
We realize that not all states charge hourly appearance fees for court reporters, as they enjoy mandatory transcript orders. If a court reporter accepts a job through Expedite, the attorney will be charged for the hours requested. The first hour is billed a 2-hour minimum, which varies based on the service being provided. However, should the reporter decide to credit the remaining hours back to the attorney upon completion of the transcript, they are free to do so at their own discretion.
How do I cancel my job if I am unable to make it?
Expedite strongly discourages providers from canceling a request after accepting. If you absolutely have no other option, please utilize the call/message feature within the app to notify the Customer. Please note, if you accept a job and then cancel, there may be repercussions with site administration. For FUTURE jobs please email the Customer directly.
What is the service cancellation policy?
Please refer to our Terms of Use to find the cancellation policy.
Who will do Post-Assignment Transcripts/Production?
Expedite will not be responsible for the production of post-assignment orders of transcripts/videos; therefore, will not receive a percentage of what the Provider bills for transcripts/videos. However, we have teamed up with SmartDeps.com, a transcript production company with 33 years of experience. With SmartDeps, you'll get free premium support, lightning-fast service, a simple-to-use website, and super affordable prices that you won't find anywhere else. CHECK THEM OUT! There are THREE options for production: ​
The Provider can work with Smartdeps.com to handle the production component. View pricing and services.
The Provider can produce the transcripts on their own.
The Provider may ask the agency with which they are affiliated to produce the transcripts/videos. ​ In the case of the Provider producing the transcripts/videos on their own, they are entitled to keep 100% of billing. In the case of the Provider producing transcripts/video through their agency, the agency will be entitled to their standard commission structure.

How does the attorney know what I will charge for post-production?
They do not know what you will charge for post-production until they receive the invoice for the post-production component, minus the appearance fee. Expedite was designed to connect attorneys with legal support services available in the immediate vicinity.
The Providers will receive a push notification for assistance. If you choose to Accept an assignment, you will cover the job. The attorney is prompted to pay for the appearance fees only upon job completion. If the attorney orders the transcript/video, the Provider may give an estimate. This is all handled outside the Expedite platform.
It is best to do your due diligence in your market area and charge accordingly. If you decide to charge rates not in accordance with your geographic location, the attorney has the right to report you to Expedite, and your services through the platform may be suspended or revoked. Please review Terms of Use for further explanation.
Options for post-production component:
The Provider may COD (cash on delivery) the client, ask for 50% up front, or run the production component through a trusted agency in the area. Many professionals have established relationships with firms and this option might be preferable. In the end, the job is covered, and the Provider has picked up an unexpected assignment in their backyard.
My state has a lot of Hold transcripts. Will I be notified if a Customer requests a back-write for a job handled within Expedite?
Yes! If a Customer requests a transcript through Expedite, the Provider will receive an in-app notification, along with an email, that contains job date, time, and location details. The in-app notification will be visible on the Completed Jobs tab. The Provider will then call the requesting Customer's office for transcript delivery details; i.e., overnight, rush, regular. (see photo below). The red box provides Transcript Ordered verification.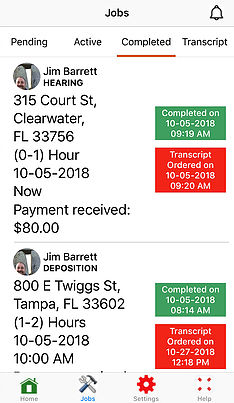 Can I generate an invoice within the app for post-production component?
Yes! We incorporated an invoicing component within Expedite. After a transcript has been ordered and completed, go into Expedite and select the Jobs from the bottom row of icons. Select Transcript from the horizontal bar menu. You will see a green button that says, Create Invoice (see photo below).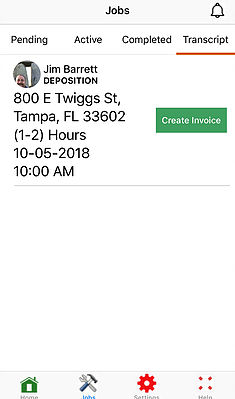 How does the invoice component work?
The invoicing system is a plug-and-chug automated method that allows you to plug in the appropriate line item description, page number and rates. Once completed, hit Send Invoice. Both you and the Customer will receive a copy of the invoice via email (see photos below).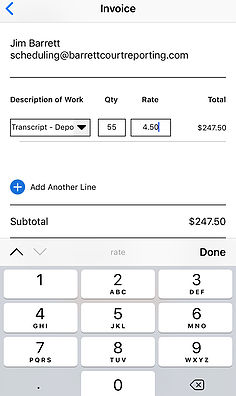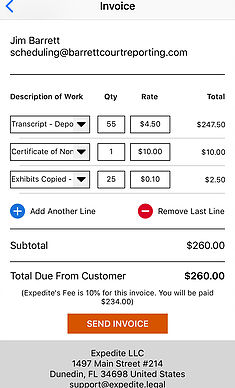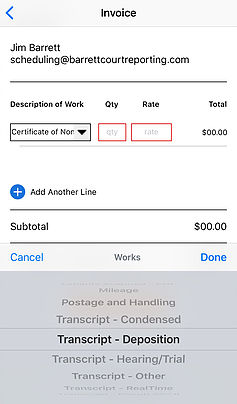 Why do you need my date of birth and my Social Security number?
Payments are processed through Stripe. Our responsibilities to our financial partners includes verifying your identity and confirming the legitimacy of you or your business. Collecting this information enables us to automate parts of this process so that you can start running charges immediately.
If you sign up as a Company under the Holder Type section of the banking information page, you will be prompted to enter an EIN/TIN.  Stripe will STILL request you to enter your TIN or full Social Security number in the next field.  You may enter your TIN in the SSN field at this point.  Your TIN or SSN will NOT be held tax liable whatsoever.  It is solely for identity purposes.  (prevents robots from signing up).  
If you sign up as an Individual under the Holder Type, you will be prompted to enter the last four digits of your SSN.  If Stripe flags your account during the verification process, you may be prompted to enter the full SSN in order to complete the sign-up process.  Stripe is working diligently to prevent fraud within our system.  https://stripe.com/us/legal#your-stripe-account
We do not use this information for any other purpose, and we take your privacy and the security of your data very seriously. (Read more about Stripe's security and privacy policy.)
Why do I need to upload a photo of driver's license?
One of the primary reasons we can get Providers up and running so quickly is Stripe's rather unique registration process. When signing up with Expedite, you are signing up for a Stripe account. We use the information you enter to verify you are the person signing up for the Stripe account. Part of our responsibility to our financial partners involves verifying your identity and confirming the legitimacy of your business. In some cases, we may need to collect a bit more information from you to ensure we can continue making payouts to your bank account. In order to get you fully up and running with your Stripe account, we request that you upload a photograph of a government-issued (driver's license or passport) photo ID. If you are uploading a driver's license, we may request an image of both the front and back of your ID. For security reasons, we do not accept copies of IDs over email.
What are the Appearance Fee Rates?
Rates vary depending upon geographic location, type of proceeding, level of urgency, and requested time and length of service, et cetera. Upon receiving a job notification, the appearance rate (100%) will be displayed. Providers facilitate AND retain 100% of post-production component.
When will I get paid?
You will be paid through our payment processing partner, Stripe. Stripe will bundle your transactions for the day and deposit them in your bank account 3 business days later. The very first transfer Stripe makes to your bank account can take 7 business days to post. Additionally, if you update your bank account, it can take 7 business days to post.
If you have received a payment statement, but have not received a direct deposit by 5 PM on your payment day, we can help. Please confirm that your bank account information is correct in your Provider dashboard. If so, contact us at support@expedite.legal so we can get you paid! 
How do I edit my bank account information?
You can update your bank account information under the Banking Account section of the app. Once payment information is selected from the left-hand side, click on edit. Once you have selected edit, the screen pictured below where you can enter your new information.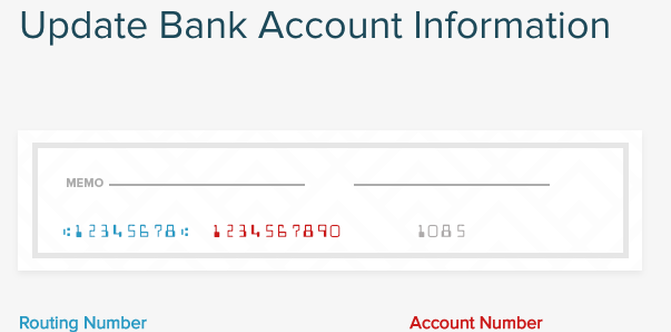 How do I get my tax statement?
During the calendar year, if you received more than $20,000 in payments, you will receive a 1099-K. If you did not meet both of these requirements, you will not receive a 1099-K. Generally, the IRS requires you to report all income whether or not you receive a 1099-K or other tax report. If you have any further tax questions, please contact a tax advisor.
How do I refer my friends to the app?
Share your experiences via Texting, Facebook, Instagram, Twitter, and LinkedIn.
How can I see my Provider rating?
Currently, Provider ratings are only shown to Customers when they select a Provider for a job. If you suspect a previous job may have hurt your Provider Rating, you can always email us at support@expedite.legal to look further into your account.
How do I edit my profile information?
As a Provider, you can update your profile information on the Home Page or the Setting Page of the app at any time.
​Go to the Profile tab. From there, you can edit.
To update any of the below information:
1. Profile photo
2. Phone number
Please email Support@Expedite.legal if you have any questions.
How do I reset my password?
To reset your password, please choose the Forgot Password option found at the log-in screen, or under Settings when you are logged in. If you continue to have trouble accessing your account, please let us know at support@Expedite.legal.
How can I view my job history?
Each Provider's job history is located under the Past Jobs Navigation tab on the Expedite app.
Will I be notified if the Customer cancels the job?
Once a Provider Accepts a job and is on their way, the Customer is responsible for the 2-hour minimum payment. The Customer may utilize the in-app call/text function to notify you of the cancellation, but will still be charged for the service.
How do I contact the Customer?
There is a call/text option to contact the Customer. On Now jobs, you can contact the customer as soon as you hit Directions. With Today jobs, you will be able to communicate 2 hours before the job starts.
How does the star rating system work?
At Expedite, we use a star rating system to help ensure security and instill confidence in our community. At the end of a job, the Customer is prompted to rate the provider on a scale of 1 to 5 stars, 5 being the best. Anything less than a 4 or 5 means that the Customer was less than satisfied, and we would like to know why. Please give us your feedback so we can work to make Expedite beneficial for everyone!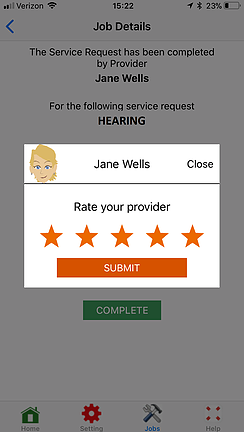 What if a Customer gives an unfair rating?
We understand that sometimes people are rated poorly and might not deserve it, like if you rightfully declined to complete a job because it was improperly advertised. If you feel that you have been rated unfairly, please take a moment to tell us about it at support@Expedite.legal.
What if I get to a job location and the Customer isn't there?
Always attempt to contact the Customer first via call/text feature within the app. If you are unable to reach the Customer, contact us at support@Expedite.legal to report the problem.
What is the referral program?
The in-app referral program rewards Providers for spreading the word and rewards newly referred Providers for joining! To automate the process, we incorporated the referral program into the app because…well, it's just easier that way!
How do I refer fellow colleagues?
If you are currently a Provider on Expedite, go to Settings.  Next, select Invite Friends.  You will see a referral code about two-thirds of the way down the page, along with the icons for email, Facebook, and text.  Select one of the icons as the method to send the Expedite Link and referral code to your colleagues.  Suggest they sign up using the code so you both receive bonus.  (The Expedite Link can only be accessed and uploaded via mobile phone)
What type of bonus do I receive if I refer a friend?
As a verified Provider, if you refer a friend, your friend must first be fully vetted and verified through Stripe before you will receive a bonus.  Once Stripe and our internal audit process verifies the Provider, your Referral Balance will show the bonus.  
Each referral bonus will be included in your next completed job within Expedite.  It's our way in saying thank you for spreading the word about Expedite.
What bonus does a newly-verified Provider receive through the program?
Once a referred Provider is vetted and verified with Expedite, they will receive a bonus on their first completed job through the platform.  This is a way to say thank you for signing up as an Expedite Provider.
How quickly will I receive the bonus for the referral program?
Both the referrer and referee will receive their bonus on the next job that is completed within the app.