What are the requirements to become a Customer?
1.    To become an Expedite Customer, download the Expedite App from the Apple Store.  Or  visit Expedite.legal, click the APP download button for your iOS.
For new registrations, click Customer Sign Up, then fill in the requested information and click Next.
2.     Provide a proper profile picture
3.     Supply Payment Method through our secure Stripe Payment Processing Partner
4.     iOS (with texting capability)
Provider/Customer Designation - Can I be a Customer AND a Provider?
Attorneys will customarily be the Customer and court reporters/videographers/interpreters/mobile videoconferencing techs/notaries public/couriers will customarily be the Providers within Expedite; however, providers that are acting firm owners will have the option of registering as a Customer, as well.  For example, if you are a court reporter, as well as a court reporting firm owner, you may toggle back and forth from the Provider to Customer side of Expedite. Please note that if a Provider registers as a Customer and initiates a job service request from the Customer side, they are now responsible for full payment of the Expedite service fee for Provider processed through the app.
What are the guidelines for a professional photo?
Your profile photo is what the providers will rely on for locating you once they arrive for a job assignment, so we want to help you make your photo look great and professional.
Once uploaded, your profile image will be added to your Customer profile.
Some things to remember when taking your profile photo:
1.     No hats, sunglasses or headsets.
2.     Smile! Say cheese! Show off your friendly side by giving a nice, big smile in your photo.
3.     Find a well-lit location to take your photo. Your photo will turn out best if you can take your photo in a place where the light is even, so it is not too bright or too dark. 
4.     Find a solid background. Make sure you have a solid background in your photo. We suggest standing in front of a wall to help avoid shadows.
5.     Frame your entire head and top of shoulders. Have your photographer take a few steps back, center your head in the box and get the top of your shoulders in the frame. This is the toughest part, but we know you can do it! 
6.     No blurry or black and white photos. Providers need to see you clearly.
7.     No face filters.
Now that you have a great profile photo, you're ready to accept jobs via Expedite!
What's the radius of 'Now', 'Today', and 'Future' jobs I can post as a Customer?
All Customers are able to post 'Now',  'Today', and 'Future' jobs that are available within a 60-mile radius of their job request location.
The map below shows the example 20-mile radius for a customer located in the downtown Tampa, Florida area.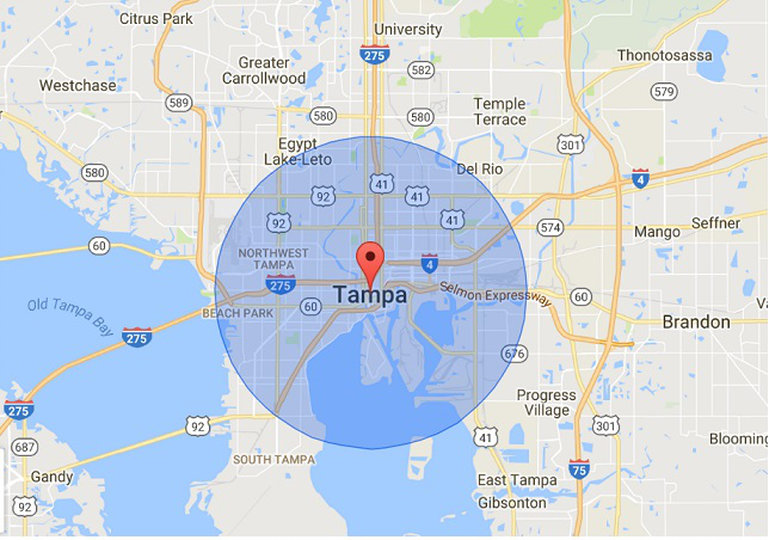 Customer Tutorial Videos
Expedite The App
Freelance and Firm Experience
Customer Sign-Up
Court Reporter Available
Legal Support Schedule
Your Expedite Experience
Who do I contact if I have questions about a job?
If you have questions about a job that has been accepted by a Provider, you can message or call them through the in-app messaging system.
If you have any questions regarding the details of a job that are not listed within the Expedite app, please contact us at support@expedite.legal.
When are Providers available?
Providers are considered available for work when they are logged into the Expedite app.
Why do I have to give the app certain permissions?
As you begin to use the Expedite app, you will see some prompts to grant us certain permissions for functionality on your device. Our top priority is to keep your data secure. We will never make use of any of these permissions without explicit action by you during the normal use of the app. The app will ask permission to access device features including:
Location:
If you opt in to using Location Services during the registration process, the app will collect and send location data to Expedite's servers to make the job request process simple for you. We facilitate provider selection using your current location, and use your location information for analytics purposes at an aggregated level so that we can continue to learn and make our Customer experience better.
Camera:
You'll see a request to access your camera when you add a photo to your Expedite profile.
Push Notifications:
Ahh… Push Notifications. We won't spam you with notifications – promise! Push Notifications are an integral component of the Expedite experience. We send notifications on your requested job and provider through the Expedite app.
How does the five-star rating system work?
At Expedite, we use a five-star rating system to provide transparency, while instilling that vote of confidence from our community members. At the end of a job, you, the Customer, are prompted to rate the Provider on a scale of 1 to 5 stars, 5 being the best. Anything less than a 4 or 5 means that the customer was less than satisfied, and we would like to know why. Please give us your feedback so we can work to make Expedite better for everyone!​ Please note that providers who have multiple 1 or 2-star ratings may lose access to the platform.
What happens if my provider cancels?
If your provider cancels, you will receive a push notification letting you know this was done. We will also contact you about reposting the job. Your provider will then get a notification that this is STRONGLY discouraged and that they have placed their status within Expedite in jeopardy.
How do I contact Expedite?
You can contact Expedite by emailing us at support@expedite.legal or through Facebook, Twitter, or the web-based chat feature.
We also have the help button in the app, which will direct you to FAQ. We're here for you!
App Troubleshooting
Check the App Store/Play Store and make sure the Expedite app is up to date.

Close completely out of the app.

Log out and log back into the app.

Restart your phone.

App permissions should be set to allow Expedite access.

Location services are on.

Check cell service? Switch from Wifi to cellular network if necessary.

Uninstall and reinstall the app completely.
If you are still having trouble with the Expedite app, please contact us at support@expedite.legal.
How do I edit my profile information?
Your profile can be edited within the app. Go to the Setting tab, then tap "Profile". From there, you can:
Update your profile photo:
Tap your profile photo, then tap "Update". You can take a photo or choose a saved photo from your camera gallery. This is the picture your provider utilizes to recognize you, so please assist them by making sure it is clear and looks as much like you as possible! 
Edit Name:
Tap your name, then tap "Update". Type in your updated name and tap "Save". 
Edit Phone Number:
Tap your phone number, then tap "Update". Enter your updated phone number and tap "Save".
How can I edit saved addresses?
You can edit your saved addresses in the Expedite app. Go to the Setting section, then tap "Saved Addresses". From there, you can add, edit and delete address information.
How do I contact my provider?
You can contact your provider through the Expedite app once the Provider has accepted the job.

You will be able to contact your provider at the following times:
​

Now Jobs

: Once you receive the 'On My Way' prompt, you will be able to call/text within the app.

Today and Date-and-Time Jobs:

 Within two hours of the scheduled appointment time and you receive the 'On My Way' prompt.
How do I request a provider to an address other than my current location?
With Expedite, you can request a provider be sent to any professional address, rather than your current location. When you request a service, type in the address of the job. This will request will be sent to a provider in the area you selected.
What is the service cancellation policy?
Please refer to our Terms of Use to find the cancellation policy.
Authorization Holds
Each time you request a Provider through the Expedite app, an authorization hold will occur. This is not an additional charge. It's just a temporary hold used to verify your card is valid.
How long will this be held?
If you see a pending amount, it will be removed by your card issuer within 3-5 business days, and your card will never actually be charged until after the job is completed. The hold will never actually process, but may remain listed as pending after the actual charge is processed. This will depend on your bank's policies. Please contact your bank for more information about their authorization time frames and policies.
Why do I have a charge on my card statement from Stripe, yet I'm not a Stripe user?
Stripe processes payments for thousands of online merchants, so it's likely that the charge on your card statement was made by one that uses Stripe to process their payments.
You can look up your charge here, to identify the Stripe user who created this charge, and view their contact information:  https://support.stripe.com/charge-lookup
If you need any help with a payment you made (e.g. to change your order, or request a refund), you will need to reach out to this merchant directly. Stripe is not able to make changes or process refunds on behalf of businesses who use Stripe.
If you're an American Express cardholder, be aware that there can be a delay in displaying the merchant you've made a purchase from. This means that, for a short period of time (usually around 48 hours), your online statement will temporarily show a pending charge from "Stripe". Once the charge is completed, it will update with more detailed information about the merchant.
How do I pay my Provider?
All payments for completed jobs are processed within the Expedite app using the payment method you listed on your account through our secure payment-processing partner, Stripe. Once a job is completed, all transaction details will be shown before finalizing the payment amount.
How do I add my payment information?
Your payment information can be added in the app. Select the "Setting" icon on the bottom navigation bar. Then select "Payment", where you will be able to add your payment information.
When will my credit card be charged for the job?
Your credit card will be charged for the job once you rate the Provider. If you do not finalize the job within 2 hours after completion, your card will automatically be charged.
Will I get a receipt for the jobs I schedule?
When your payment is complete, you will receive an emailed receipt from our secure payment processing partner, Stripe. If you do not receive a receipt, check your email's spam folder.
What is the refund policy?
If you are not satisfied with the service received, please contact support within 24 hours of your job completion and we'll investigate. 
What if I was charged the wrong amount for a job?
How do I report a problem with my Provider or job?
If you have any problems with a provider or job, please contact us at support@expedite.legal and we will get back to you right away.
How do I submit a complaint?
Our goal is to connect you with a provider that will exceed your expectations. If that doesn't work out, and you are at all dissatisfied with your service, please let us know at support@expedite.legal. 
What if I'm not satisfied with the job?
We hope that doesn't happen! Of course, you can let the provider know if your expectations weren't met so they have the chance to exceed them. If you don't agree that the job was done according to its description, you'll have the option to dispute the job. Please contact us within 24 hours with as much information you have so we can help rectify the situation.
What if the Provider is running late?
We hope this is a rare occurrence, but if your Provider is late to arrive, you can view their current location in the app to get a sense of when they might arrive. If you have not already, please attempt to contact your Provider by using the "call/text" function within the app:
​Go to the map-tracking page within the app and press the phone/text buttons within the screen.
If you still aren't able to get in touch with your provider, please contact us at support@expedite.legal.
What if the Provider doesn't show up?
We're sorry to hear that your Provider hasn't shown up! If you have not already, please attempt to contact your Provider by using the call/text feature within the app.
Go to the map-tracking page within the app and press either the phone/text buttons within the screen.
If you still aren't able to get in touch with your Provider, please contact us at support@expedite.legal.